Put Your Most Memorable Dates In Print!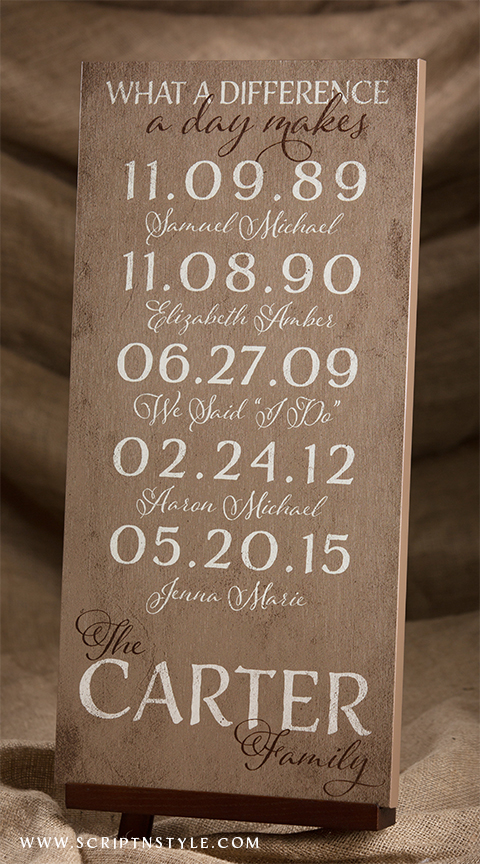 Keep Those Special Moments Alive - Put Your Most Memorable Dates In Print!
Life is made up of precious moments - those special days, events and memories that define who we are, and what really matters to us. Weddings, anniversaries, graduations and even that unforgettable first kiss - these are all important dates that deserve to be remembered and celebrated, 365 days a year!
Unfortunately, it seems like the busier life gets, the easier it is to get bogged down in the daily grind and lose sight of those milestones, overlooking days that should stand out. You'd think that with all the electronic devices, digital calenders and mobile reminders it would be virtually impossible to miss a birthday, graduation date or other noteworthy anniversary, right?
The fact is, we're all overloaded with social media notifications, smart phone alarms and automated messages, making it all to common for folks to overlook memorable dates. Thankfully, there's an endearing, attractive alternative to those digital calenders - custom-printed special dates signs!
Transform Special Dates Into Personalized Artwork
Available in your choice of materials and colors, including real wood, natural burlap or cotton canvas, important dates signs are a wonderful way to keep life's most memorable moments in mind year-round, helping to remind you, your family and guests of what's near and dear to your heart.
Each personalized special dates sign can include three to seven unique dates along with a family name, letting you capture life's moments in an attractive, eye-catching piece of artwork that you'll be proud to display in your home!
Important Dates Signs - The Gift They'll Treasure Forever
Finding the perfect gift for housewarming parties, weddings and anniversaries can be tough - you want to give a gift that says you really care, without breaking the bank! And while gift cards are a popular option, let's face it - nothing says "I bought this at the gas station on my way here" like a piece of plastic money....
That's why important dates signs are perfect presents for any occasion - they're available in colors and styles that match any decor, and you'll be sure to 'wow' the lucky recipients with your thoughtfulness! Special dates signs are a great gift option for any occasion or event that's worth celebrating - think engagement parties, baby's first steps or even retirements!
So the next time you have a date you'd like to remember, don't just add it to your smart phone - show the world how special your memorable dates are with a custom-made important dates sign!