Make A Statement With Your Office Decor
Does your office decor need a boost? Looking for creative ways to make your corporate messaging more visible to your staff, clients, and customers? Want to integrate your business branding, mission statement or quotes about your company culture into your day-to-day environment?
If so, it's time to put those drab, dull office walls to work with a custom quote on canvas! These one-of-a-kind, high-quality pieces blend the eye-appeal of artwork with powerful branding, marketing, and staff motivation to transform your office decor into a functional and visually appealing part of your corporate culture.
Of course, you could always resort to hanging up those mass-produced posters featuring images of breaching whales and snow-tipped mountains paired with words like 'ambition', 'challenges' and 'teamwork' instead of ordering your own unique custom canvas, but do you really want to show the world you're stuck in the 80's?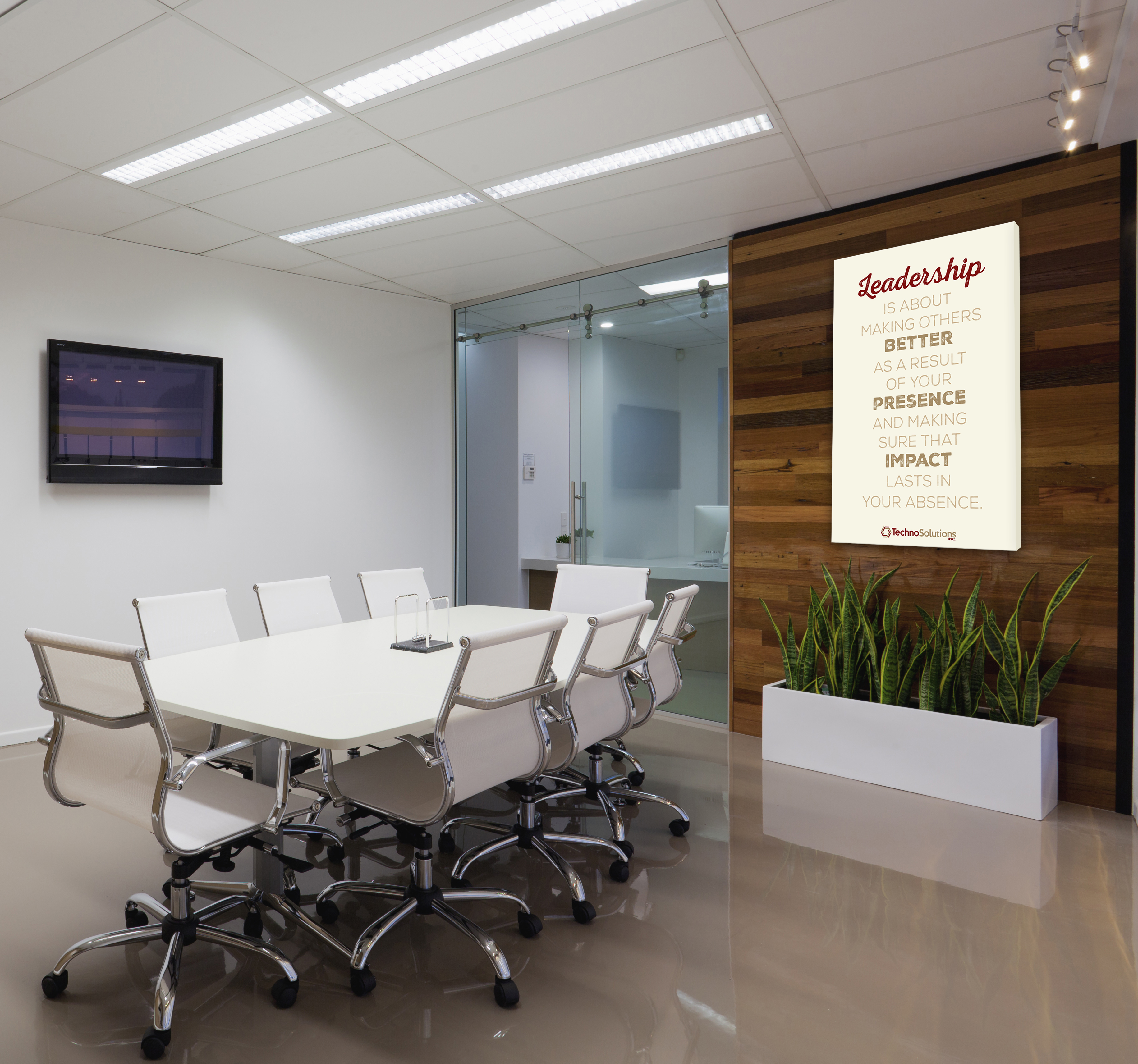 Motivate & Inspire With A Custom Quote on Canvas
We all know that even the most dedicated, most devoted employees need help staying focused on the task at hand, and that's where a custom print can help. Decorating your office with positive, inspirational quotes and statements provide everyone with ongoing reminders of the goals, values and vision of your enterprise in a way that's inviting and visually appealing.
And not only do these functional, unique pieces of office decor help to motivate and inspire your team to work in a way that matches your company goals and values, custom art at your workplace lets your customers, clients, and visitors know more about your company in a way that's genuine and easy to understand.
Display Your Motto, Tagline or Mission Statement
If you've ever visited the corporate headquarters of an industry-leading company, you'll have noticed how they use every opportunity to integrate branding and corporate messaging into their decor. Most big businesses make sure that their mottos and taglines are prominently displayed so that employees and visitors alike have a clear picture of exactly what the corporate culture is.
With our custom quote canvases, it's easy to do the same thing at your office! You can order your very own unique pieces of artwork featuring your own mission statement, quotes from your company founder, or motivational quotes from cultural or business leaders that align with the goals and values of your business.
Custom Fonts & Colors To Match Your Business Branding
The great thing about ordering your very own custom quotes on canvas is that you have complete control over not only the words on the canvas but the colors and font style too! That makes it easy for you to order a unique piece of premium-quality artwork that fits perfectly with your existing business branding.
Better yet, these custom canvas prints are very affordable, even for small businesses and home-based ventures. In fact, a custom designed canvas with your choice of text, colors and fonts can cost less than a box of pens printed with your company logo! In most cases, the artwork can be completed and shipped to you in under 10 days, and your satisfaction is guaranteed - if you don't love your personalized wall art, let us know and we'll make things right!
So, instead of decorating your office walls with generic artwork or canned motivational quotes, why not take the opportunity to inspire your staff and engage your customers with your very own customized canvas print?